Citroën DS7 Crossback Owner's Manual
---
You can find 6 different owner's manuals for the Citroën DS7 Crossback on this page that are in the PDF format.
Yearly DS7 Crossback Owner's Manuals
The years available stretch from 2017 through to 2022 and to view the manual you just click the name underneath.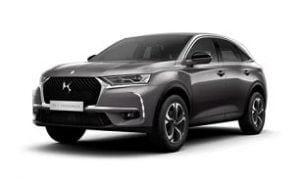 About The DS7 Crossback
The DS7 Crossback is a compact luxury crossover sports utility vehicle created by the French automaker, DS Automobiles. DS Automobiles formed part of the French company Citroen in 2009 until its break away in 2015 where it continued on as an independent corporation in its own right. Their mission statement currently is to tackle emissions and have only electric vehicles on the road by 2025.
This new DS7 Crossback premiered at the Geneva Motor show in 2017 and was built on the EMP2 platform (a popular platform used by the PSA group which lent itself to a number of vehicles, most notably, the C5 Aircross and the Opel Grandland).
The first generation of these SUVs were sold in petrol form across Europe from 2017, with the addition of diesel engines issued a year later in 2018. Emphasis was placed firmly on the car's comfort, quality, high technology use and safety.
As the DS7 Crossback had a reputation as a luxurious vehicle, it was the first SUV to ever have been involved with the French inauguration; President Emmanuel Macron chose the DS7 Crossback for his presidential car, commissioning a special ink blue model with French flags adorning both interior and exterior.
The DS7 Crossback had 5 doors with 5 seats, was a front-engine vehicle with the option to have either front-wheel drive or all-wheel drive. There were a number of engine configurations available, for example, a Petrol 1.2-liter PSA EB2DTS Turbo I3 or a diesel 1.5-liter PSA DV5 Blue HDi I4. There were also hybrid options and an electric motor-powered variant.
Given the DS7 Crossback's luxurious reputation, size and the fact that the President had chosen this vehicle, sales did rather well and allowed the car to compete with the likes of the BMW X1, Audi Q3, Mercedes GLA and the Jaguar E-Pace.