Dodge Dakota Owner's Manual
---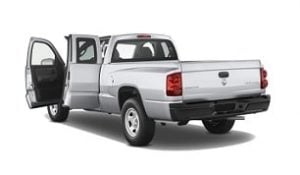 About The Dakota
The Dodge Dakota, also sold as the RAM Dakota, was a mid-size pickup truck sold by Chrysler Group between 1986 and 2011. During this time on the market, there were three generations released.
This pickup was unique in that it was the first mid-size truck to offer a V8 engine.
It was available in the traditional pickup layouts of a 2-door regular cab, 2-door Club Cab, and 4-door Quad Cab. Interestingly, it was also sold as a convertible in the first generation only.
Sitting in the mid-size category, it is slightly larger than the Ford Ranger, while still being smaller than its siblings, the Dodge Ram series.
Trim levels were updated with each generation. The later versions typically had five unique trim options, with some additional packages. These consisted of the base ST, followed by Sport, SXT, SXT Plus, the premium SLT, and the high-performance R/T.
These were streamlined down to only include ST, SLT, and Laramie for the final generation. However, the options traditionally found in the SXT models were also sold as Big Horn and Lonestar versions.
Powertrains in the later years typically consisted of engines ranging from a smaller 2.5-liter AMC inline-4 through to the 5.9-liter Magnum V8 found in the R/T models. The engines were reduced for the final generation, being limited to the largest 4.7-liter Magnum V8.
Transmissions were restricted to manual and automatic gearboxes of either 4-speed or 5-speed configurations. Ram Trucks only introduced a 6-speed manual in the third generation.
Dodge discontinued the Dakota model in 2011 as a result of the decreasing popularity of compact pickup trucks. This ended the model's 25-year run on the market.