Dodge Caliber Owner's Manual
---
You can find 6 different owner's manuals for the Dodge Caliber on this page that are in the PDF format.
Looking For Mechanical Information?
An owner's manual is usually packed with guides on how to operate the car safely and how to maintain it.
If you require mechanical information (for fixing the car yourself for example) then you may need a workshop, service or repair manual instead.
Dodge Caliber Service Manuals »

Yearly Caliber Owner's Manuals
The years available stretch from 2007 through to 2012 and to view the manual you just click the name underneath.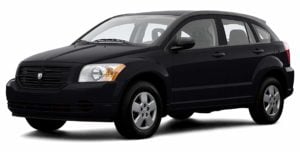 About The Caliber
Launched in 2007 the Dodge Caliber has been the auto manufacturer's compact hatchback model up until 2012 when it was discontinued.
It replaced the Neon and PT Cruiser models and brought with it a host of new technology such as CVT transmission and an electronically controlled all-wheel-drive drive-train.
The Caliber shares a lot mechanically with the other lines of its parent company GMC: the Compass and Patriot sold under the Jeep brand.
This vehicle has an incredible amount of power and speed, making it ideal for those who like to take the lead on the road.
However, this car also means business when it comes to safety features; with six airbags and side-impact door beams, you can rest assured that your family will be safe in any situation.
The Dodge Caliber owner's manuals on this page will teach you everything you need to know about this fun but powerful vehicle.
In terms of safety, the car received a rating of "good" and only really fell behind because of the side-impact tests, mainly because of a lack of side airbags.
The range of trims available when you bought a Dodge Caliber helped the car appeal to a wide audience of customers.
A performance version was released called the SRT4 and was powered by a 2.4 litre turbocharged engine which performed a lot better than what the manufacturer quoted according to third-party testing.
The SRT4 model was only available for a year in 2009 and was seen as a great buy due to being twice as powerful as performance cars around the same price.
Aside from the SRT4 performance trim, there are a variety of other options such as:
Express
Heat
Mainstreet
R/T
Rush
SE
SRT-4
SXT
SXT Plus
Uptown
Sales quickly started slowing after the initial release of the car as it came out during a time of great global uncertainty and never really recovered.