Dodge Grand Caravan Owner's Manual
---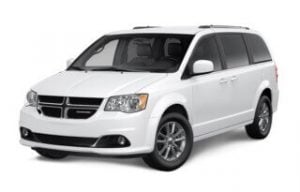 About The Grand Caravan
Launched in 1984, the Dodge Grand Caravan was a range of minivans sold primarily to the US, Canadian and European markets.
The Grand Caravan owner's manuals on this page will help you get the most out of your investment by teaching you how to properly use and maintain it.
Production of the car was finished in late 2020 and the model was replaced with the Chrysler Pacifica and its revived Chrysler Voyager line of minivans as a budget version.
Over the 36 years that this car was produced it went through 5 generations of redesigns and upgrades and introduced many features that we come to expect from a minivan today.
The final generation of the Grand Caravan featured a range of 4 and 6 cylinder engines mated to a 4 or 6-speed automatic transmission.
Safety ratings of the final models were pretty good with 5 out of 5 for all tests other than roll-over and frontal impact where it only scored a 4 out of 5.
A commercial van-style variant of the car was produced that they called the Ram Cargo Van but was discontinued when Fiat took control and pushed their own vans ranges.
In recent years many different trims for the car have been offered including:
American Value Package
Crew
eL
ES
eX
Express
GT
Hero
LE
Mainstreet
R/T
SE
Sport
SXT
FAQ's
Q: What does the ECON button mean on a Dodge Grand Caravan?
A: The ECON feature activates the engine's eco-friendly mode and adjusts many different systems to focus on getting the best fuel economy possible.
---
Q: Can a Dodge Grand Caravan pull a trailer?
A: The Grand Caravan is capable of towing a trailer. To find out how much your model can tow consult the relevant owner's manual on this page.
---
Q: Why does my Dodge Grand Caravan shake?
A: Shaking when driving your Grand Caravan is most probably related to the engine, it could be as simple as a faulty spark plug but could be something more sinister. Consult a trained mechanic to have them diagnose the issue further.
---
Q: Why is my Dodge Grand Caravan not starting?
A: The simplest reason that your Grand Caravan might not be starting would be a dead battery in the car or key fob, easily replaceable. More serious issues include a faulty alternator or starter motor.
---
Q: Is the Dodge Grand Caravan being discontinued?
A: 2020 marked the last year for the Dodge Grand Caravan with the last model rolling off the production line in August 2020. The parent company that owns Dodge are focusing on their better performing minivans like the Chrysler Pacifica and Town & Country lines.