Dodge Nitro Owner Manual's
---
Dodge Nitro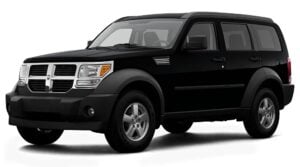 The Dodge Nitro was a short lived compact SUV model that was built between 2007 and 2011.
The Nitro was not unique mechanically, it was built on one of its sister company Jeep platform's that it shares with the Liberty. Both vehicles were assembled in the same plant in Toledo, Ohio.
This car was wider, longer and lower than the Liberty with the additional space being put to use in the rear seats for additional passenger room.
The quick drop in sales after its first positive year in production caused the Nitro to be removed from sale in late 2011, meaning the last model year was 2012 that were actually delivered to customers.
The car stuck out for its aluminium effect interior giving the Nitro a tough look to the occupants with some elements of the dashboard receiving a silver painted finish to carry on the effect.
The Nitro was also the first model by Dodge to be marketed in European countries where Jeep was already present and knew how to handle that territory.
The standard model was rear wheel drive but a switchable four wheel drive drive-train could be upgraded to for those thinking of taking it off-road.
Engine choices for the Nitro included a 2.8 litre 4 cylinder or a 3.7/4.0 litre V6 mated to either a 4/5 speed automatic or 6 speed manual transmission.