Ford E-Series (incl. Wagon) Owner's Manual
---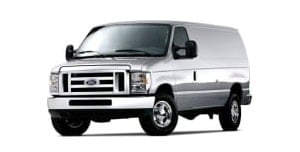 About The E-Series
The Ford E-Series is a series of full-size commercial vans that have been manufactured by Ford since 1961. There have been four generations since its release. Interestingly, Ford has not released a new generation for over 20 years as of now.
It was also called the Ford Econoline and Ford Club Wagon.
Similar to the F-Series pickup trucks, Ford has offered various models ranging from the smallest E-150 up to the E-550 Super Duty. However, the latest generation only consists of the E-350 and E-450.
Over the years, it has come with a number of options in regard to the configuration to aid in fitting various commercial tasks. These have included a 4-door panel van, 6-door and 8-door van, and a 2-door chassis cab.
The latest models are only sold as single and rear-wheel cutaways currently.
Despite its long run on the market, it is often outshined by the Ford Transit series, particularly for light commercial work suited to vans. Competition outside of Ford typically comes from the Chevrolet Express and GMC Savana.
Trim options for the latest version have been limited to only a single option for each model. This represents a noticeable difference from the F-Series and speaks to the E-Series' commercial nature.
The latest version is only offered with a 7.3-liter V8. However, these are sold with either Premium-Rated or Economy-Rated settings to allow for further customer preference. These are mated with a 6-speed Torqshift automatic gearbox.
Older versions were outfitted with similarly large engines ranging from a 4.9-liter OHV inline-6 up to the current engine option.