Ford Ka (incl. Ka+) Owner's Manual
---
You can find 11 different owner's manuals for the Ford Ka (incl. Ka+) on this page that are in the PDF format.
Looking For Mechanical Information?
An owner's manual is usually packed with guides on how to operate the car safely and how to maintain it.
If you require mechanical information (for fixing the car yourself for example) then you may need a workshop, service or repair manual instead.
Ford Ka (incl. Ka+) Service Manuals »

Yearly Ka Owner's Manuals
The years available stretch from 2011 through to 2021 and to view the manual you just click the name underneath.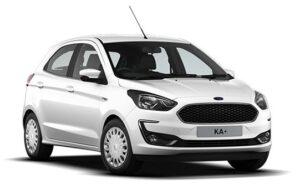 About The Ka
To take on the city car segment of the automobile market that was recently growing, Ford introduced the Ka in the mid-1990s.
It was a small pyramid-shaped car that had a wheel in each corner, was lightweight and lacked many modern features to keep the cost down.
The content in the owner's manuals will help you better understand the ins and outs of your new purchase.
It will cover topics such as engine care, how to maintain your car's interior, tips on driving with the best possible gas mileage.
People flocked to this new and small car for basic driving around the city, popular with those who rarely drive long distances.
The second-generation model that was introduced in 2008 was built using the newly revived Fiat 500 chassis.
Now this newer car was packed full of features such as USB ports, voice control and a six-speaker sound system, a far cry from the original.
2016 saw a huge change for the Ka line when the model was moved to an in-house platform that was used on the larger Fiesta model.
This increase in size due to the larger platform also saw it moved from the city car classification to the subcompact segment.
Inside the new car was another injection of new features including front airbags as standard, ABS and more economical engines.
Buyers could also choose from a range of trims in the newer Ka+ model including any of the following:
Studio
Zetec
Zetec Black Edition
Zetec White Edition
For the first time, you could also buy a Ford Ka with 5-doors and a longer sedan version was also introduced with a boot protruding from the rear.