2019 Ford Ka+ Owner's Manual
---
You can view the 2019 Ford Ka+ Owner's Manual further down the page underneath the image of the cover.
Clicking on the "view full screen" button will take you to a full screen version of the manual.
Manual Cover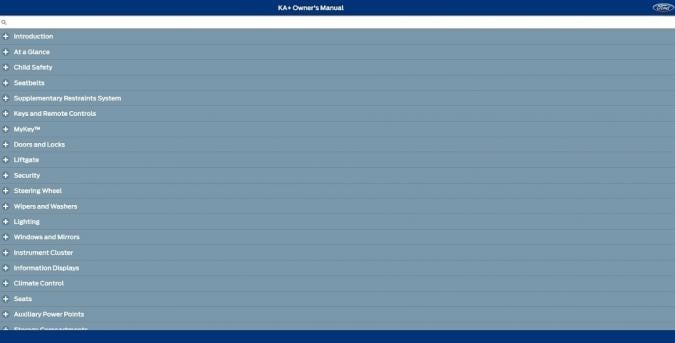 External Manual
Leave This Site & View External Manual »
2019 Ka (incl. Ka+)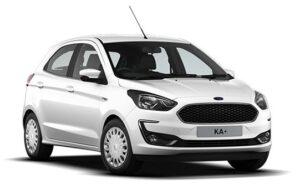 The Ford Ka+ was originally built for the South American and Indian market, but as it launched into Europe it offered some impressive design and engineering changes to make it more suited to higher-end demands of European buyers.
Built on top of the Fiesta platform, it is considerably larger than the previous generations of the Ka - hence the new "+" symbol given to its name.
The 2019 Ford Ka+ includes a spacious cabin, nice exterior styling and a surprisingly fun and dynamic drive on the road. It has proven itself to be a formidable family car offering great utility, easy parking, affordable running costs and great control and maneuverability on city streets.
Under the hood is a 1.2L 3-cylinder engine which at the base level outputs just 69-hp and at the more premium Zetec level 84-hp. It has a 47-mpg combined fuel consumption rate, which makes it very city-friendly indeed, but covering greater distances on the highway requires giving it a lot of throttle and it doesn't feel as comfortable in those conditions.
Exterior styling improvements include a new grille, front LED lights and bumper. C-shaped daytime running light molds have also been added to the bumper design to boost the aesthetic.
The interior features a 6.5-inch infotainment screen with standard Apple CarPlay and Android Auto compatibility. The overall feel of the cockpit and interior styling is fairly pedestrian, but it's solidly built and quality is decent.
Perhaps the best interior feature is the backseat, which is surprisingly spacious for adults and children with plenty of legroom and headroom. The trunk also offers almost 10 cubic feet of cargo space with the rear seats up, which goes up to 30 cubic feet with the seats down. That's a class-leading capacity for this kind of supermini.
As a family car, parents needing to fit car seats will also find a pleasingly wide-opening rear door which makes loading the seat a breeze.