Ford Mustang Mach-E Owner's Manual
---
You can find 3 different owner's manuals for the Ford Mustang Mach-E on this page that are in the PDF format.
Yearly Mustang Mach-E Owner's Manuals
The years available stretch from 2021 through to 2023 and to view the manual you just click the name underneath.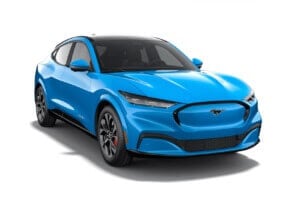 About The Mustang Mach-E
Taking the Ford Mustang name into a completely new direction as consumer tastes change, the Mach-E is a fully electric crossover SUV.
As it is a crossover SUV that means that it doesn't have the heavy off-road equipment like you would find on a Jeep Wrangler underneath.
If you're interested in learning more about this amazing machine, then check out the official owner's manuals below.
2021 marks the first model year for the new offshoot of the Mustang range straight away it won the North American SUV of the Year award.
The boldest move the car has taken is to not have any door handles and instead features buttons or the use of a smartphone as a key/handle.
On the dashboard is a widescreen infotainment system and soundbar to project virtual surround sound around the cab.
The platform that the Mach-E sits on is shared with the Focus and Kuga/Escape lines though with heavy modification.
Buyers can choose from one of three power packages for the electric car that affect its max power and range, more expensive packages have larger motors and batteries.
For the late 2021 model year, you can also buy the GT version that is built using space-age lightweight components and premium sports parts such as Brembo brakes.
Currently, all Ford Mustang Mach-E's are built in Mexico with production in China announced to be starting soon.