Hyundai Nexo Owner's Manual
---
You can find 5 different owner's manuals for the Hyundai Nexo on this page that are in the PDF format.
Yearly Nexo Owner's Manuals
The years available stretch from 2019 through to 2023 and to view the manual you just click the name underneath.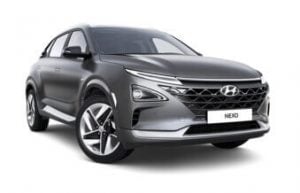 About The Nexo
The Hyundai Nexo is a luxury hydrogen-fuel-cell powered mid-size crossover SUV that first came on sale for the 2019 model year.
It has many features that are designed for safety and convenience, including an electric motor with 10 different driving modes.
The following owner's manuals listed on this page will help you get the most out of your new car.
For Hyundai to put out a luxury vehicle is a big shakeup from the old image it has managed to shake off where it used to be the bargain-basement alternative on the market.
Many of the Hyundai range on the auto market lacked modern features and their cars were usually a cheap rebadged version of a competitor's old model.
Now, Hyundai is a sought-after value-for-money manufacturer that offers the features found on luxury cars at a better price.
Offering a hydrogen-fuel-cell-powered car is a risk in these times as the network for refilling isn't as developed as the one for recharging batteries.
This does have one major benefit over standard electricity-powered cars, it can be refilled with hydrogen in mere minutes.
The Nexo also boasts a range of almost 500 miles, beating all of the electric-powered cars currently on the market.
When the car was introduced in 2019 it pushed the hydrogen-fuel-cell version of the Honda Clarity from the top spot.
Inside the car, Hyundai has presented some of the most advanced technology to complement the model.
Driver-aids include blind-spot-monitoring, lane-follow-assist and highway-assist to adjust the direction and speed of the car based on other road users.