Hyundai Tucson Owner's Manual
---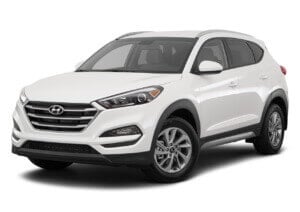 About The Tucson
The compact crossover SUV Hyundai Tucson has been on sale since 2004 and is now in its fourth generation of design.
It's slightly smaller than the other Hyundai SUVs, the Santa Fe and the Veracruz.
The Tucson has the fuel efficiency, safety features, and storage space that you need in a modern SUV.
These owner's manual PDFs will provide you with information about the car's options and model specifications to help you decide which trim best suits your needs.
The original Tucson that was released shares the same platform as the Kia Sportage, which is also still on sale to this day.
This car was released back in 2004 and was crammed with technology such as key-less entry and windscreen deicing.
With each facelift, the car gained more features to keep up with other SUVs on the market such as Bluetooth connectivity and a push-button to start the engine.
The more modern versions of the Tucson are available with a range of engine sizes and hybrid options mated with automatic or manual gearboxes with a large number of gears for fuel-efficient driving.
The IIHC scores for this car are mixed but mostly good, the car falls down mostly on a crash test that involves driving into a wall with a corner at the front of the car to test the vulnerabilities of the front passenger and driver.
In 2022 the car entered into its fourth generation of design and moved onto the N3 platform that it shares with various Kia models.
The 2022 Tucson model gained a new jewel-style headlight design and is even offered in various short and long-wheelbase versions in various markets around the world.
FAQ's
Q: Is the Hyundai Tucson under-powered?
A: The base model of the Tucson is said to be under-powered according to surveys given to owners of the car. The larger engine versions of the car have ample torque to move but are not very economical.
---
Q: Is the Hyundai Tucson a reliable vehicle?
A: According to research done on owners of the Tucson, the reliability of the model sits in the center when compared to other similar crossover SUVs.
---
Q: Does the Hyundai Tucson have a manual transmission option?
A: The most recent version of the Tucson (as of 2021) is offered with one of four different transmission types. You can opt for an automatic, dual-clutch or clutchless/clutched manual option.
---
Q: What is the Hyundai Tucson comparable to?
A: Other similar compact crossover SUVs include the Dodge Journey, Jeep Compass, Ford Escape and Subaru Crosstrek.
---
Q: Does the Hyundai Tucson need synthetic oil?
A: You can run your Tucson using conventional oil but will require to change the liquid and filter every 3,000 - 5,000 miles if you do so. Switching to fully-synthetic oil will allow you to drive double that distance before Hyundai recommends changing the oil and filter.