Honda Clarity Owner's Manual
---
You can find 4 different owner's manuals for the Honda Clarity on this page that are in the PDF format.
Yearly Clarity Owner's Manuals
The years available stretch from 2018 through to 2021 and to view the manual you just click the name underneath.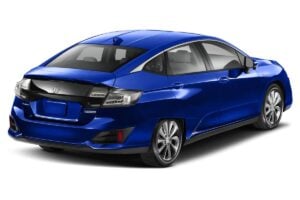 About The Clarity
Originally, the Honda Clarity was a fuel-cell-powered car but in 2017 the line was expanded to cater to the more traditional battery and fuel-hybrid drivetrains.
In 2006, it was taunted as the zero-emissions car that could be recharged in 5 minutes, unlike the battery-powered cars of the time.
This early Clarity model was the first to offer hydrogen fuel-cell technology to domestic customers.
Then in 2014, the car was put to rest with designers returning to the drawing board in the hopes of producing a much higher volume alternative fuel vehicle.
Just 2 years later the new Honda Clarity emerged and was offered with a variety of eco-friendly powertrains underneath the car that can make use of the current charging network.
Hydrogen fuel required expensive and hard-to-find providers who would have to deliver it to you, rather than filling up at a service station or charging at a mains point.
If you are considering purchasing this amazing car, then please take some time to read one of the owner's manuals linked to from this page.
The new Clarity boasted the best range of any alternative fuel vehicle until the release of the Hyundai Nexo in 2019.
Now, you can order the car as a hydrogen fuel-cell from select dealerships, a fully electric battery/motor-driven car or a hybrid fuel-electric combo.