Hyundai Sonata Owner's Manual
---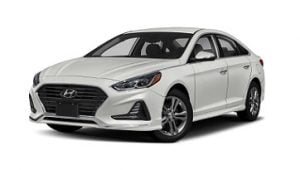 About The Sonata
Since it was first introduced in 1985 the Hyundai Sonata has been exported to markets such as North America after the manufacturer found it wouldn't sell locally in its first 2 years.
This page featured the various owner's manuals that act as an overview of what you need to know about this model, including its history, safety features, and specifications.
The car is a mid-sized 4-door sedan and originally was front-wheel drive until 1988 when sales were being pushed in the USA when Hyundai switched to a rear-wheel-drive layout.
Originally the car was powered by a 1.6 or 2.0 litre Mitsubishi engine mated to a 4-speed automatic or 5-speed manual transmission.
The second-generation Sonata was built on the Galant's chassis on licence from Mitsubishi and engine choices were expanded to 1.8, 2.0, 2.4 or 3.0 litre in size.
With the release of the third generation in 1993, the Sonata finally gained its own in-house designed and built chassis but engines were still supplied by Mitsubishi.
The fourth-generation model released in 1998 brought many modern updates to the car including independent wishbone suspension and in-house Hyundai power plants finally available for the car.
You can also find the 4th generation Sonata as the donor car as the original Kia Optima that was released by the South-Korean company in the year 2000.
This new model of Sonata shared its chassis with other Hyundai models like the Trajet and Santa Fe SUV.
Trims that were made available for this new car included:
Blue
ECO
GL
GLS
Limited
Limited+
LX
N Line
SE
SEL
SEL Plus
SEL+
Sport
Sport+
In 2009 the car gained an option for hybrid technology (that 20% of buyers opted for) to be fitted allowing 48 mpg on the highway that is shared with the Kia Optima Hybrid.
The most recent version of the car became available in 2019 and the improved hybrid system is quoted as now capable of achieving 51 mpg on the highway.