Hyundai Santa Cruz Owner's Manual
---
You can find 2 different owner's manuals for the Hyundai Santa Cruz on this page that are in the PDF format.
Yearly Santa Cruz Owner's Manuals
The years available stretch from 2022 through to 2023 and to view the manual you just click the name underneath.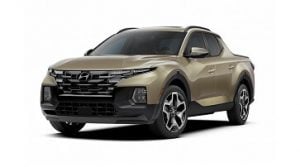 About The Santa Cruz
The Hyundai Santa Cruz is a compact pickup truck introduced to the market for the 2022 model year.
It is built on top of the Hyundai-Kia N platform like many other cars and crossover SUVs but shares most in common with the Tucson.
You could claim that this is a crossover pickup truck as it has a unibody construction, a way of building cars that is lightweight and cost-effective.
The concept for the Santa Cruz first appeared in 2015 when a model using the same name was exhibited around the world.
Inside of the car is many of the same components as the Tucson including the same dashboard.
As standard, you get the car with a front-wheel-drive chassis but you can upgrade to a four-wheel-drive one if desired.
It does boast several features that you wouldn't expect to see on a normal road-going car though such as a lockable center differential and self-leveling rear suspension.
That center diff is also fitted with a clutch so the engine can focus on the front wheels most of the time and send power to the rear only when needed.
This setup will help the Hyundai Santa Cruz improve on its fuel economy by not wasting power that is sent to the rear of the car when traction is already satisfactory.
Only one engine size is available initially for the compact pickup truck (2.5-liter gasoline) but you can choose to have a turbocharger fitted – both are mated to an 8-speed automatic transmission.