Nissan Pathfinder Owner Manual's
---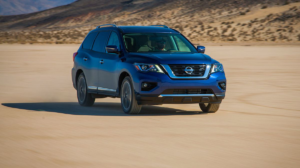 You can find 27 different owner's manuals for the Nissan Pathfinder on this page that are in the PDF format.
The years available stretch from 1996 through to 2021 and to view the manual you just click the name to the left (or above if viewing by mobile).
About The Nissan Pathfinder
Since the production started in 1985 the Nissan Pathfinder has found itself going through four generations of design and upgrades.
The Pathfinder is a line of SUV's available with 1 of 3 drive-train layouts: FWD, RWD or 4WD.
In terms of engines, many different variants have been released over the years in both petrol and diesel with hybrid making an appearance in 2014 to the range.
Although the shell is being made lighter and the engine is made more economical the sales are dropping year on year for this model as people switch away from gas guzzlers.
The Pathfinder is still in production it looks set to be replaced by the more stylish and modern Nissan Terra that is stealing sales away.
The 2019 model of the car received a slight improvement in appearance with the dashboard being most of the focus of this upgrade.
Modern versions share a platform with the Murano and Maxima models by the same auto manufacturer.
Common Problems With The Pathfinder
Suspension – deteriorating tension rod bushes can cause a knocking to start when driving over bumps, easily fixed with replacements
Power door locking – a known common fault with this system can cause them to stop working and can be easily fixed with a clean
Knocking noise when cornering – a plastic part in the steering can come off causing metal to knock against metal
Headlights – if you are unable to control the headlights it may be down to a dirty switch contact and fixed with a simple clean
Nissan Pathfinder Oil Type
Inside the owner's manual you can find a reference to the oil type needed and the fill capacity. To make things easier we have a sister-site that lists the different trims of the Nissan Pathfinder and the appropriate oil you need at OilType.co.