Nissan Pathfinder Owner's Manual
---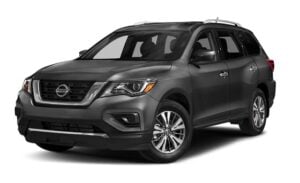 About The Pathfinder
Since the production started in 1985 the Nissan Pathfinder has found itself going through four generations of design and upgrades.
The Pathfinder is a line of SUVs available with 1 of 3 drive-train layouts: FWD, RWD or 4WD.
It was first available as a two-door, compact truck and later as a four-door model.
The Pathfinder offers excellent fuel economy and is considered to be one of the best SUVs for off-road driving.
The various sections in each of the owner's manuals cover general information about the vehicle, including features, specifications, safety equipment and more.
In terms of engines, many different variants have been released over the years in both petrol and diesel with hybrid making an appearance in 2014 to the range.
Although the shell is being made lighter and the engine is made more economical the sales are dropping year on year for this model as people switch away from gas guzzlers.
Nowadays, the Pathfinder is still in production it looks set to be replaced by the more stylish and modern Nissan Terra that is stealing sales away from it.
The 2019 model of the car received a slight improvement in appearance with the dashboard being most of the focus of this upgrade.
Modern versions share a platform with the Murano and Maxima models by the same auto manufacturer.
These modern examples can be purchased with one of a variety of different trims, such as:
LE
LE Platinum
Platinum
S
S FE+
SE
SE Off-Road
Silver
SL
SV
XE