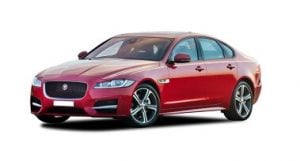 About The XF
The Jaguar XF is classed as an executive car or mid-size luxury car.
Production of the car began in 2007 as the replacement for the S-Type and was made available as a 4-door saloon or 5-door estate.
Underneath the car is the Ford (the company that owned Jaguar at the time) DEW platform that you can also find under the S-Type and the Lincoln LS.
It was rear-wheel-drive as standard like much of the Jaguar range but an all-wheel-drive chassis was also available as an upgrade.
Compared to the S-Type it was replacing, the XF had much more aggressive styling with a premium look and finish.
A performance version of the car was marketed from 2009 through to 2015 as the XFR, fitted with a 5-liter supercharged V8.
Another even more high-performance version was also sold later (in 2012) as the XFR-S, featuring the same engine but more aggressive styling and the use of carbon fiber.
In 2015 a second-generation XF was launched and was now moved away from the Ford platform it used before.
Now built on an in-house developed platform (also used by the XE and the F-Pace) the car could now embody more of the premium image the Jaguar name is known for.
Most of the bodywork and chassis were now created using aluminum to cut down on weight and the supercharged V6 from the F-Type was also available for the first time.
For the Chinese market, a long-wheelbase version of the Jaguar XF was also offered in this second generation.