Jaguar F-Pace Owner's Manual
---
You can find 8 different owner's manuals for the Jaguar F-Pace on this page that are in the PDF format.
Yearly F-Pace Owner's Manuals
The years available stretch from 2016 through to 2023 and to view the manual you just click the name underneath.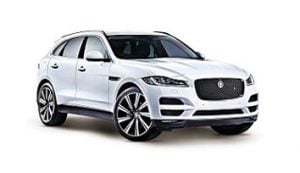 About The F-Pace
The Jaguar F-Pace was the first crossover SUV produced by the British car manufacturer.
Production of the car began in 2016 using the D7 platform that was developed in-house for larger vehicles.
You can find many other models using the D7 underneath them such as the XE, XF and a modified electric version under the I-Pace.
The F-Pace is produced in Solihull, England alongside the Range Rover Velar using many of the same mechanical components.
When you buy a new example of this car you can choose from a variety of gasoline and diesel engines to suit your needs.
At the more sensible end of the scale is the 2-liter turbodiesel and at the other, more exciting end is the 5-liter supercharged gasoline V8.
As standard, the F-Pace is sold as a rear-wheel-drive but an optional four-wheel-drive system is offered as an upgrade.
For the smaller displacement turbodiesel engines, you can opt for a manual transmission but mostly the car is offered with an 8-speed automatic.
To help lower the center of gravity the body of the car is created using 80% aluminum and the rigidity of the model is improved using modern design techniques.
Inside of the car the dashboard is dominated by the touchscreen infotainment system that handles much of the car's controls and features.
Within this system, the Jaguar F-Pace is extended with a GPS and wifi hotspot among many other extendable and updatable features.