You can find 9 different owner's manuals for the Jaguar XE on this page that are in the PDF format.
Yearly XE Owner's Manuals
The years available stretch from 2015 through to 2023 and to view the manual you just click the name underneath.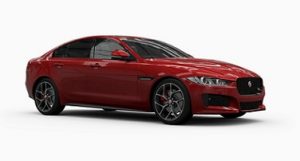 About The XE
Production of the Jaguar XE began in 2015 after being debuted the year before at the Paris Motor Show.
It is built upon the JLR D7a platform, also used in varying setups by the XF and the sporty F-Type 2-seater.
Much of the frame and the suspension are built using the lighter metal aluminum, much more so than any other car in the same segment.
Classed as a compact executive car (like the Lexus IS and the Kia Stinger), Jaguar anticipated the XE to act as an affordable company car and achieve great sales in that area.
It replaced the X-Type it previously sold in this class that had served from 2001 through to 2011 – selling at its peak of 50,000 models per year.
Sales of the car began right away in the UK and Europe but those wanting to buy the car in the USA needed to wait until 2016.
At first, the car was only offered with rear-wheel-drive but to keep up with the competition the company added a four-wheel-drive option.
It takes advantage of Fiat technology to accurately inject both air and fuel into the engine as efficiently as possible in order to achieve a better fuel economy.
Most of the engines that the XE is offered with are provided by Ford, a high-performance supercharged V6 was created in-house and is also used in the F-Type.
In 2019 the V6 was taken off the order sheet but the XE range did see additions and improvements in other areas.
The 2019 facelift brought cupholder covers, a better touchscreen infotainment system and the rotating gear selector was replaced with a traditional stick type.