Kia Seltos Owner's Manual
---
You can find 5 different owner's manuals for the Kia Seltos on this page that are in the PDF format.
Yearly Seltos Owner's Manuals
The years available stretch from 2020 through to 2024 and to view the manual you just click the name underneath.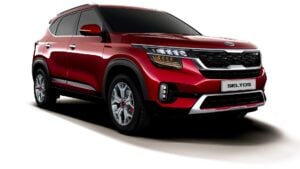 About The Seltos
Released in the 2019 model year, the Kia Selto is a subcompact crossover SUV and one of the smallest in the company's range.
It has a fun image that is designed to appeal to the growing youth market who crave technological features – all of which are explained in detail in the Kia Seltos owner's manual.
Kia & Hyundai have both been recently building different versions of cars for different regions and this model is no different.
These owner's manuals will help you get acquainted with your new vehicle and teach you how to take care of it properly.
From the dashboard controls to the trunk release, these PDF guides have all the information you need.
It is offered slightly different for India, Asia and Europe/North America – with different levels of features and engine/transmission choices.
Underneath the Seltos is the K2 platform used under the Hyundai Accent, Hyundai Venue and Kia Rio.
The crash testing agency Euro NCAP awarded the shorter 2020 SP2i version of the car 3 out of 5 stars and claimed the body shell was unstable.
On the flip side, the KP2 version sold in South Korea and many other regions were awarded 5 out 5 stars when tested by the same agency.
Engine options for the car range from a modest 1.4-liter turbocharged through to a torquey 1.6-liter turbodiesel.
The platform that the Seltos is built on is the same as the one used underneath the Hyundai Kona with many of the same features and engines shared among the 2 models.
These engines can be mated to a manual, automatic or dual-clutch transmission powering the front or all four wheels, chosen at the time of ordering the car new.
Alongside the choice of engine is the choice of trim which represents the level of comfort and safety features installed, for the Kia Seltos it can be one of the following: