Hyundai Accent Owner's Manual
---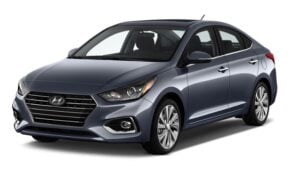 About The Accent
The Hyundai Accent has been in production since 1994 when the company wanted to replace its aging Excel model.
These owner's manual PDFs will give you tips for taking care of your vehicle and maximizing its lifespan while saving money in the process.
This new Accent is a smooth redesign of its predecessor and Dodge sold these in Mexico as the Dodge Brisa or continued using the Excel market in some regions.
In France, Hyundai called the car the Pony and in China the car was sold as the Kia Qianlima.
Safety tests of the original Accent in the 1990's showed that it performed poorly, though this was a cheap car in the market.
Over the years with redesigns of the car the safety ratings improved vastly as Hyundai went from a bargain-basement car manufacturer to a serious contender for today's huge auto brands.
Recent generations of the Accent (released after 2017) have a modern/stylish appearance and are being pushed in regions other than North America such as Russia where it is called the Solaris.
The customer has the choice of several fuel-efficient engines, ranging from a cheap to run 1 litre gasoline through to an ample 1.6 litre turbo-diesel.
Customers can also choose from a huge list of possible trims for their new model including:
GL
GLS
GS
GT
L
Limited
SE
SEL
Sport
Value Edition
The car is kept as an affordable model by the brand and lacks many luxuries that an American or European buyer would want but as it's being pushed in emerging markets it seems a wise decision.