Hyundai Accent Owner Manual's
---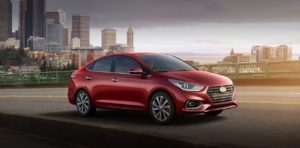 You can find 16 different owner's manuals for the Hyundai Accent on this page that are in the PDF format.
The years available stretch from 2003 through to 2020 and to view the manual you just click the name to the left (or above if viewing by mobile).
About The Hyundai Accent
The Hyundai Accent has been in production since 1994 when the company wanted to replace its aging Excel model.
The new Accent was a smooth redesign of its predecessor and Dodge sold these in Mexico as the Dodge Brisa or continued using the Excel market in some regions.
In France Hyundai called the car the Pony and in China the car was sold as the Kia Qianlima.
Safety tests of the original Accent in the 1990's showed that it performed poorly, though this was a cheap car in the market.
Over the years with redesigns of the car the safety ratings improved vastly as Hyundai went from a bargain-basement car manufacturer to a serious contender for today's huge auto brands.
The most recent generation of the Accent (released in 2017) has a modern stylish appearance and is being pushed in regions other than North America such as Russia where it is called the Solaris.
The customer has the choice of several fuel-efficient engines, ranging from a cheap to run 1 litre gasoline through to an ample 1.6 litre turbo-diesel.
The car is kept as an affordable model by the brand and lacks many luxuries that an American or European buyer would want but as it's being pushed in emerging markets it seems a wise decision.
Hyundai Accent Oil Type
Inside the owner's manual you can find a reference to the oil type needed and the fill capacity. To make things easier we have a sister-site that lists the different trims of the Hyundai Accent and the appropriate oil you need at OilType.co.