Hyundai Kona Owner's Manual
---
You can find 12 different owner's manuals for the Hyundai Kona on this page that are in the PDF format.
Yearly Kona Owner's Manuals
The years available stretch from 2018 through to 2024 and to view the manual you just click the name underneath.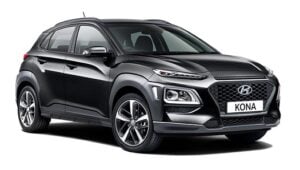 About The Kona
Production began in 2017 of the Hyundai Kona for the 2018 model year in South Korea, China and the Czech Republic.
With its sleek design and affordable price, it's not hard to see why so many people are buying this car.
The yearly owner's manuals to the left will give you more information about some of these features that make the Kona so great.
The car is a subcompact crossover SUV, a classification of car that is rapidly becoming a favorite all around the world for having the positives of an SUV while being low cost in initial price and running costs.
Other competing subcompact crossovers SUV's currently on the market include the Toyota C-HR and the Buick Encore.
Shortly after the release of the standard gasoline and turbo diesel-powered versions, an all-electric Kona EV was made available.
The Kona EV has an impressive range of 258 miles quoted by the manufacturer, real-world tests by third parties found that it had the longest range of any electric car on the market at the time.
This model is known by a different name in certain markets, in Portugal, it is known as the Kauai and in China, it is known as the Encino.
Under the hood, engines available are kept on the economical end of the scale as the car is marketed as an environmentally friendly alternative to other gas-guzzling SUVs.
It shares the same platform as the Kia Seltos and these engines options are shared among the 2 models.
Inside the cabin, the level of features and comfort are controlled through the level of trim which could be one of the following:
Limited
Night
SE
SEL
SEL Plus
Ultimate
Buyers can opt for a 1 litre turbo gasoline or diesel engine all the way through to a 1.6 litre turbo diesel with a hybrid-electric motor.
Transmission choices on the non-electric car include dual-clutch, automatic and manual options. A four-wheel-drive drive-train is also an option on selected trims.