You can find 8 different owner's manuals for the Lexus GX on this page that are in the PDF format.
Yearly GX Owner's Manuals
The years available stretch from 2016 through to 2023 and to view the manual you just click the name underneath.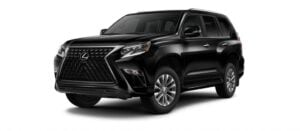 About The GX
After the success of the RX range of smaller SUV's Lexus attempted to bridge the gap between that and the larger RX SUVs with the GX.
Released in 2002 the full-size luxury SUV has always featured a V8 engine choice with the latest generation adding a V6 engine option.
These owner's manuals are full of information about how to operate your new GX.
There are also some basic maintenance tips included for your convenience.
Transmission options have also always been limited to just one size of automatic, 5 gears in the first generation and 6 in the second.
An intelligent center-differential alters the split of power distribution between the front and rear axles to aid steering in the GX.
Built on the Toyota 4Runner platform it shares many mechanical parts among the pair.
September 2013 brought its first face-lift including LED daytime running lights to improve safety and a substantially reduced price tag in the USA.
In 2019 the GX received another facelift for the 2020 model year and featured new triple-beam LED headlamps.
Sales have slowed over the years on average as more auto-manufacturers add SUVs to their line-up and consumers flock to smaller SUVs.