You can find 12 different owner's manuals for the Lexus CT on this page that are in the PDF format.
Yearly CT Owner's Manuals
The years available stretch from 2011 through to 2022 and to view the manual you just click the name underneath.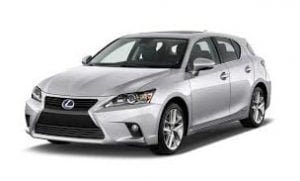 About The CT
The CT is a hybrid electric premium compact hatchback built by Lexus, the premium division of Toyota. Initially, based on the Toyota Prius and Toyota MC platform and chassis along with the Corolla and Matrix, first models were referred to as 'CT200h.'
Built with a front spindle grille, the CT was unveiled to the public at the Geneva Motor Show in 2010 with its trademarked name.
Created primarily for the European market, the CT had a 1.8-liter VVT 4 cylinder petrol engine used also in the Auris and the Prius, and could produce 98 bhp.
The CT has a front MacPherson strut suspension and it uses the top of the telescopic damper as an upper steering pivot (now used widely on modern vehicles). Earle S MacPherson invented the MacPherson strut suspension while he was the chief engineer of Chevrolet in 1945 working on the 'Light Car Project.'
All CT models have the ability to switch between 4 drive modes; Normal, Sport, Eco and EV and contain a number of safety features including vehicle stability control, 8 airbags, a pre-collision system and dynamic radar cruise control. 2013 saw a facelift with a noticeable change to its styling and a larger spindle grill.
For the American market, Lexus allowed the option to upgrade to the 'F sport package,' which had no actual performance enhancements, just a 'sporty' aesthetic and subtle changes made to the chassis. Lexus pulled the CT from production in 2017 despite it having won 'Best Small Car over £35,000' in 'Australia's best Cars' magazine just a few short years earlier in 2011. Global sales reached 267,000 units throughout its lifetime and as a result, was the 2nd best-selling Lexus hybrid after the Lexus RX 400h / RX 450h.