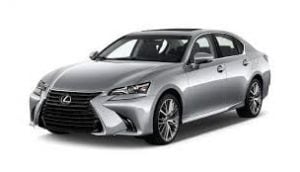 About The GS
Sold as the Toyota Aristo in Japan, the Lexus GS was primarily an executive car with the design brief to be 'simple, sleek and non-fussy.'
Initial models began sales in 1991 three years after the initial sketches and were built in the Toyota Tahara Assembly Plant in Japan.
Although there were over 4,200 welds on the car, only 8 of these were spot welded by hand (the rest were welded exclusively by robots).
The GS was a premium model with a walnut wooden steering wheel, leather seating, front airbags, moonroof and excellent speakers for surround sound. Throughout its life, the GS was designed to compete with vehicles such as the BMW 5 Series, Mercedes-Benz E-Class, Volvo S80, Audi A6, Jaguar XF and the Acura RLX.
The second generation was sold from 1997 with changes made to the headlamps to make them more rounded just like the lights used on Mercedes, and Lexus used a midsized platform with a front engine and rear wheel drive. Lexus used the marketing strapline 'something wicked this way comes' taken from the dark fantasy model by Ray Bradbury in 1962.
For its first 8 years, Lexus sold 30,622 units and in 2000 gave the GS a facelift.
2005 saw the third generation in with a completely new look designed by Yasuhide Hosoda (Lexus' lead designer), these vehicles had a 3.5-liter 2GR-FSE D4S Injection engine.
Around this time, the hybrid version was unveiled at the New York International Auto Show and was the first mass-produced rear-wheel drive luxury hybrid engine available on the market. With 2 electric motors, the GS boasted 'super ultra low emissions' status and was fitted with a wealth of safety features like knee airbags, torso airbags, electric brake force distribution, electronic stability control and adaptive smart lights.
The fourth generation, sold form 2011, had a much more angular front end and a V6 5-speed automatic transmission engine with three driving modes, Eco, Sport and Sport S+.