Mazda CX-50 Owner's Manual
---
You can find 2 different owner's manuals for the Mazda CX-50 on this page that are in the PDF format.
Yearly CX-50 Owner's Manuals
The years available stretch from 2022 through to 2023 and to view the manual you just click the name underneath.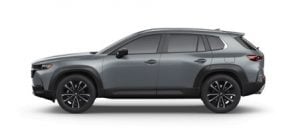 About The CX-50
Mazda is expanding its SUV range with the CX-50, a new model that is being marketed as the company's "adventure" model. It's also the first model to be produced at the new Mazda-Toyota plant in Huntsville, Alabama. The first models have just started production at the time of writing and the first models for sale will be sold as 2023 models.
The CX-50 is being built to take on other crossover SUV models such as the Nissan Rogue, the Hyundai Tucson, the Toyota Rav4 and others. Engine options include a naturally aspirated 187-hp 4-cylinder engine with 2.5L displacement, or a turbocharged version of that getting up to 250-hp.
All drivetrains will be AWD and a powertrain paired with 6-speed automatic transmissions. There's also a hybrid model underway that will get some of its hybrid technology from Toyota. The CX-50 itself will be roughly the same in dimensions as the CX-5, but with a lot more aggressive exterior design features that reflect its more adventurous nature.
Driving modes include a dedicated off-road mode, which Mazda has already highlighted to prove its credentials as a real rugged go-getter SUV. They've complemented this with optional off-road tires that buyers will be able to equip when they purchase. Another of the known driving modes to be included is "Towing Mode." and there will be the standard "Sport Mode" offering that is on other Mazda models.
Some are a bit disappointed to hear that even in this brand-new Mazda SUV, the infotainment screen will be operated by a rotary dial and not a touchscreen, but the good news is that Mazda are for the first time offering a panoramic sunroof! The CX-50 will also include Mazda's cutting-edge G-Vectoring control system which will offer responsive and intuitive steering control.
No starting price has been confirmed as of yet.