Mazda Mazda5 Owner's Manual
---
You can find 12 different owner's manuals for the Mazda Mazda5 on this page that are in the PDF format.
Looking For Mechanical Information?
An owner's manual is usually packed with guides on how to operate the car safely and how to maintain it.
If you require mechanical information (for fixing the car yourself for example) then you may need a workshop, service or repair manual instead.
Mazda Mazda5 Service Manuals »

Yearly 5 Owner's Manuals
The years available stretch from 2006 through to 2018 and to view the manual you just click the name underneath.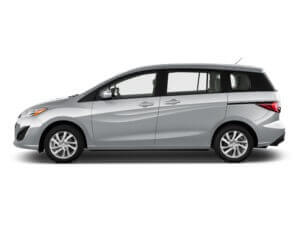 About The Mazda5
The Mazda Mazda5 is a compact MPV built in Japan with initial production starting in the year 1999.
Newer models do not come with a printed owner's manual, so we've archived the PDF versions on this page.
These manuals will tell you everything you need to know about your Mazda5, from the features included in the car to how to maintain it properly.
Other compact MPV's on the market include the Renault Scenic, the Nissan Note and the Kia Rondo.
This car is sold as the Premacy within the Japanese territory but known as the Mazda5 everywhere else.
It started life as having the option for up to 7 passengers to be able to sit in the car (including the driver) but the second generation reduced that down to 6.
The introduction of the third generation (the last as the model was discontinued in 2016) features more environmentally-friendly options such as start/stop technology and a more efficient engine.
Trim choices were kept simple with this new version and you had just 3 to choose from, including Grand Touring, Sport and Touring.
A hydrogen version was released in 2007 that could run on the liquid gas or switch to fuel if available. This hydrogen engine configuration wasn't carried on to the third generation.
2004 models had to be recalled due to the exhaust catching fire due to a fault in the gearbox causing gears to stick for too long and increasing the heat of the exit gases.