Mercedes Benz SL-Class Owner's Manual
---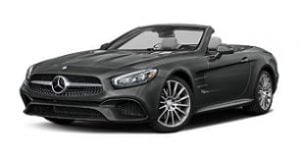 About The SL-Class
The SL-Class was originally built as a premium race car with gullwing doors built by the German automaker Mercedes-Benz. Following its popularity and requests for a production version, Mercedes decided to mass produce the car.
By 1989, the SL-Class was solely a 2-seater and was the first Mercedes in history to have a button-controlled automatic hydraulic retractable roof. From this point on, Mercedes began to add more technologies and safety features and by 2001, the SL-Class had both a 'keyless go' function and smart key entry, an electro-hydraulic brake system automatic brake control.
The 2012 model was displayed at the North American International Auto Show in the January of that year and for the first time featured an aluminum body to counterbalance the weight created by the new safety equipment required to bring it up to code. Here, Mercedes had worked intensely on creating an audio system that reflected the quality of the vehicle and by using the 'front bass system' the car made use of the internal structures and concaves of the footwell to reverberate the sound. Windscreen wipers pumped out water from the front through the actual blades rather than the more traditional method of two jets pointed at the windscreen.
This new SL-Class had a suspension combined with speed-sensitive power steering, with a 9-speed automatic transmission or the AMG speed shift MCT had a 7-speed automatic transmission. Stylistically, the new front grille had been changed to a single band running horizontally through the Mercedes badge.
Now in its 7th generation, the latest model went on sale in 2022 and is built only as an AMG variant named the 'Mercedes-Benz AMG SL-Class.' Two powertrains are now available, a 4-liter V8 producing 469 bhp or the second producing 577 bhp. This is the first SL-Class to seat up to four passengers since 1988 and as such, can compete with cars like the Lexus LC and the BMW 8 Series (both top-line luxury cars).