Mercedes Benz SLK-Class (incl. SLC) Owner's Manual
---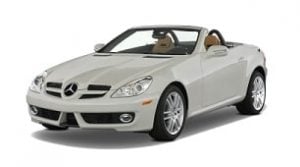 About The SLK-Class
The SLK Class was a compact executive roadster built by the German automaker Mercedes-Benz. From 1996, the SLK was manufactured in Bremen, Germany and lasted a respectable 24 years until its production ended in 2020.
Released around the same time as the BMW Z3, the two cars were fairly similar – both being two-seater sports cars. It also had strong competition from the Audi TT and less-expensive Japanese rivals like the Honda S2000 and the Mazda MX-5.
'SLK' is an initialism that stands for Sportilch Leicht Kurz, or 'sporty lightweight short.' Branco Sacco began designing the SLK in 1991 and postponed production until the patent was filed. After the patent was granted, Mercedes-Benz unveiled the all-new SLK at the Turin Motor Show on the 22nd April 1996.
2004 welcomed in the second generation which would run for just 6 years before restyling took place. This new model had increased strength thanks to the new steel frame but the most noticeable change was the radical front end. Mercedes-Benz removed the flat front grille and replaced it with a smooth dynamic front bonnet that had sweeping air vents that surrounded the famous logo. Mercedes installed their all-new air scarf system, which allowed for a more 'useable' convertible in cooler climates by pumping warm air through fans located below the headrests in the seats.
The third generation was sold between 2011 and 2020 with an inline-4 V6 and a V8 diesel or petrol. This version had an electric tinted window shade for the sunroof which allowed the driver to block the sun by changing the opacity of the glass. Mercedes called this the 'magic sky control.' To coincide with the 20th anniversary of the SLK, Mercedes released a rebadged (and slightly changed) version called the SLC-Class. Following a downward trend in sales figures, Mercedes discontinued the SL in 2020.