Mitsubishi Lancer Owner's Manual
---
You can find 7 different owner's manuals for the Mitsubishi Lancer on this page that are in the PDF format.
Looking For Mechanical Information?
An owner's manual is usually packed with guides on how to operate the car safely and how to maintain it.
If you require mechanical information (for fixing the car yourself for example) then you may need a workshop, service or repair manual instead.
Mitsubishi Lancer Service Manuals »

Yearly Lancer Owner's Manuals
The years available stretch from 2011 through to 2017 and to view the manual you just click the name underneath.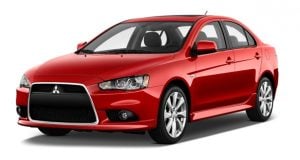 About The Lancer
The first Mitsubishi Lancer models appeared in the early-1970s first classed as a subcompact car.
Between the years 1988 and 2003 the car was actually a rebadged Mirage from the same Japanese automaker.
That Mirage model was discontinued in 2003 and the Lancer returned to being its own exclusive line, although the Mirage did make a reappearance in 2012 as a subcompact car.
The following owner's manuals provide an overview of how to operate your new car so that you can get up and running as quickly as possible.
During the 1990s the Lancer was revised into a larger model (as its donor the Mirage grew) due to the inclusion of new safety and comfort technology and entered the compact car classification.
Over its varied and slightly confusing life, this car has been sold in various territories under different names such as:
Colt Lancer
Dodge Colt
Plymouth Colt
Eagle Summit
Hindustan Lancer
Soueast Lioncel
Mitsubishi Galant Fortis
Mitsubishi Lancer Fortis
Aside from the varied names that the model went by it was also famously offered in a high-performance trim called the Evolution for each generation it was on sale.
This "Evo" model was fitted with a full-time four-wheel-drive system and a turbocharged engine, on the outside it was complemented with a sports body kit to match the World Rally Championship version.
In 2017 the final models rolled off the production line outside of Asia with the model only being sold in Taiwan and China going forward.
The CEO of the Australian wing of Mitsubishi Motors stockpiled as many as possible before the car was discontinued as he had a strong faith in the lines continuing success.
During its final worldwide version (ninth-generation) that was first introduced in 2007 the Lancer was built on the GS platform.
This GS Platform was shared with many other cars including the ASX, Dodge Journey and Jeep Patriot.