Mitsubishi Triton (L200) Owner's Manual
---
You can find 13 different owner's manuals for the Mitsubishi Triton (L200) on this page that are in the PDF format.
Yearly Triton Owner's Manuals
The years available stretch from 2011 through to 2023 and to view the manual you just click the name underneath.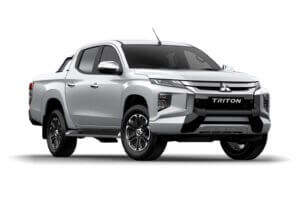 About The Triton
Since the late 1970s, the  Triton has been in production by the Japanese automobile manufacturer Mitsubishi.
It is classed as a compact pickup truck on the global market, a type of vehicle popular in emerging markets and those with higher fuel prices.
In the USA for example this style of pickup is much less popular than the standard-sized models such as the best-selling car in that country, the Ford F-150.
For a brief time during the 1990s, the Triton was sold in the USA as the Mighty Max and rebadged as the Dodge Ram 50 and Plymouth Arrow truck.
Outside of the company's home country, the Triton is sold as the:
L200 (and L200 Strakar)
Rodeo
Magnum
In recent years Fiat rebadged a version of the Mitsubishi Triton as the Fiat Fullback for commercial customers.
Early models of the pickup truck were small and basic much like the Toyota Hilux that proved popular at the same time.
Much like the Hilux, the original models were 2-door only with 4-door twin cab models not being introduced until the mid-1980s.
Over the years the Triton grew in size while remaining in the compact pickup truck classification due to increased comfort and safety equipment onboard.
The most recent version of the truck is the fifth-generation which is an export-only model not on sale in Japan.
Engine choices for the modern version are very limited, sat at around 2.4-liters, although buyers can choose between diesel or gasoline engines.
In 2019 a facelift brought a new front-end design to the Mitsubishi Triton to match the rest of the company's range – inside the car, there were only minor tweaks.
An infotainment system built into the dashboard controls much of the car's entertainment and climate-control features which you can read about inside the owner's manual.
Search the list on this page for a particular year's Mitsubishi Triton manual, clicking the link will take you to a page with the PDF embedded as well as a download link.