2019 Mitsubishi RVR/ASX Owner's Manual
---
You can view the 2019 Mitsubishi RVR/ASX Owner's Manual further down the page underneath the image of the cover.
Clicking on the "view full screen" button will take you to a full screen version of the manual.
Manual Cover

2019 RVR/ASX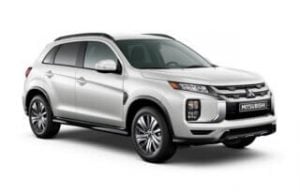 The 2019 Mitsubishi RVR, also known as the Mitsubishi ASX and the Mitsubishi Outlander Sport, is a subcompact crossover SUV that has a long history in the Mitsubishi lineup going way back to the early 1990s. The 2019 RVR is part of the 3rd generation which was first launched back in 2010.
The third-gen models represented a significant departure from the old RVR design. Since the initial launch in 2010, the RVR/ASX has undergone 2 more facelifts to reach the point we're in for the 2019 model. A third facelift was done in 2019 for the 2020 model, so the 2019 model was the last of the pre-third facelift of the model.
Mitsubishi was offering a pretty generous lineup that included 7 different cars. Highlighted features include the Rockford Fosgate sound system, a panoramic glass room panel, and Mitsubishi's signature All-Wheel Control (AWC) system.
There are 2 powertrain options on the 2019 model, including a 2.0L and 2.4L 4-cylinder engine producing 148-hp and 168-hp respectively. That's paired with an automatic transmission, but the larger engine option also comes with paddle shifters to create more of a manual experience.
In 2019, the third-gen model is nearly a decade old, and one can feel that somewhat in the interior styling. Overall the entire car feels like it lacks sophistication, especially in a market segment with so much competition from the likes of the Hyundai Kona and Mazda CX-3.
Dated it may be, but the interior is at least solidly constructed and feels incredibly durable. That's a big plus for the more rough-and-ready outdoorsy family that are dragging heavy bags, muddied shoes, maybe a pet or two in the car. It will stand up to anything.
One nice update for the 2019 version is the 8-inch touchscreen which includes Apple CarPlay and Android Auto, that at least feels like it brings the car closer to the modern age.