Nissan Titan Owner's Manual
---
You can find 12 different owner's manuals for the Nissan Titan on this page that are in the PDF format.
Looking For Mechanical Information?
An owner's manual is usually packed with guides on how to operate the car safely and how to maintain it.
If you require mechanical information (for fixing the car yourself for example) then you may need a workshop, service or repair manual instead.
Nissan Titan Service Manuals »

Yearly Titan Owner's Manuals
The years available stretch from 2013 through to 2024 and to view the manual you just click the name underneath.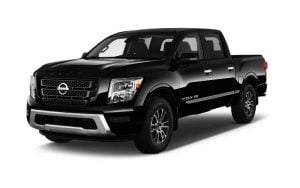 About The Titan
The Nissan Titan was designed for and is assembled in the United States, a huge market for pickup trucks.
It was first introduced in 2004 and comes as either a 2-door or 4-door with a bed in the back for transporting cargo.
The first edition was available with just one choice of engine, a 5.6-liter V8 though with the introduction of the second version in 2016 a 5-liter turbodiesel option was added.
A 5-speed automatic transmission was the only option on the first-generation Titan though that was also expanded with the second to include a 7 or 9-speed option.
Inside the truck has always been some of the best technology on offer including satellite radio and power-adjustable seats.
The most recent versions are complimented with the 2020 refresh that brought LED headlights, an optional touchscreen infotainment system and driver-aids.
These driver-aids include forward-collision warning, traffic sign detection, blind-spot warning, lane departure warning and high-beam assist to name a few.
For a full list of the driver-aids included with the Nissan Titan, you can click a year to the left to find the owner's manual for your appropriate year and scan through the PDF.
The features that are included in the truck are controlled by the level of trim you choose when ordering the car new, they can be one of the following:
LE
Platinum Reserve
PRO-4X
S
SE
SL
SV
XD
XD Platinum Reserve
XD PRO-4X
XD S
XD SL
XD SV
XE
Sales have remained steady for the Titan range but are nothing like the best-selling models in America which include the Ford F-150 and Chevrolet Silverado.
Millions of pickup trucks are sold in North America each year and this Nissan only gets a few percent of those sales.