Opel/Vauxhall Karl/Viva Owner's Manual
---
You can find 6 different owner's manuals for the Opel/Vauxhall Karl/Viva on this page that are in the PDF format.
Yearly Karl/Viva Owner's Manuals
The years available stretch from 2014 through to 2019 and to view the manual you just click the name underneath.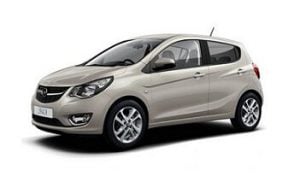 About The Karl/Viva
In most of Europe, this car was sold as the Opel Karl, in the UK it was known as the Vauxhall Viva.
It sits on the small global platform from General Motors that is also in use under the Tigra and Corsa.
Both the Karl and the Aviva were basically rebadged fourth-generation Chevrolet Spark models assembled in South Korea starting in 2014.
They were intended to replace the Agila model that was sold by both Opel and Vauxhall from the year 2004.
It sits in the city car segment of the automobile market offering a lightweight car with a small and economical engine.
City cars typically don't come with much in the way of luxuries but the Karl/Viva boasted hill start assist, electronic stability control and six airbags.
When purchased the car could be fitted with upgradable options such as heated seats, an electric sunroof and even a heat steering wheel.
The British Viva version had even more features as standard including a tire pressure monitoring system and cornering lamps.
In 2019 the production of the car ceased at the plant in South Korea but the Vietnamese automaker VinFast licensed the model.
They continue to produce the Karl in Vietnam for the local market under the model name Fadil.