Peugeot 206 (incl. CC) Owner's Manual
---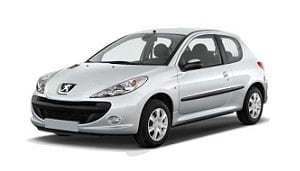 About The 206
The 206 is quintessentially a 'supermini' car created by the French car manufacturer Peugeot. In production since 1998, the 206 was a direct replacement for its predecessor, the Peugeot 205.
Like the 205, it was designed to be a hatchback, with the shape and design altering slightly to create firstly a coupe cabriolet closely followed by a coupe cabriolet, station wagon and finally a sedan.
The 206 was the brainchild of Peugeot's president at the time, Jacques Calvet. Once the plans were drawn and finalised in 1994, the approval was swift and was handed over the 'in-house' design team who altered the size and shape slightly. Headed up by chief designer, Murat Gunak, the 206 took 36 months from the initial 'hard' design concept to reach production. The whole process from 1994 to 1998 cost Peugeot 6.3 billion francs (the conversion to dollars is difficult given France's move to the Euro in the early 2000's, but in today's money it roughly equates to $1 billion).
There were a modest variety of engine sizes, 1.1-liter, 1.4-liter, 1.6-liter, all petrol and a 1.9-liter turbodiesel. The latter was adapted and use for the GTi model called the Peugeot 206 RC, a car capable of achieving 0-62 mph in 7.4 seconds.
The 206 enjoyed incredible success in its early years, through 2001 – 2003, it was voted 'car of the year' in the UK, and from 1998 (the year of its release) to 2001, it was Europe's best-selling car.
In 2005, 5 million units had been manufactured. There were a number of different cars under the 206 badge, one of which was the Grand Tourism, an off-road capable version of the World Rally car, the GTi 180 and the afore mentioned RC. Also, there was the Escapade and French dream, the former was a standard 206 with off-road capabilities (without the enhanced performance of the Grand Tourisme), and the latter was created with the middle-class French family firmly in mind. All the alterations were of high quality and featured the 'comfort pack' appealing to a customer who would otherwise consider a more luxurious German brand.
The 207 took over from this line as the direct replacement although it remained being manufactured in various regions around the world for many years after.