Peugeot 207 (incl. CC) Owner's Manual
---
You can find 18 different owner's manuals for the Peugeot 207 (incl. CC) on this page that are in the PDF format.
Yearly 207 Owner's Manuals
The years available stretch from 2006 through to 2014 and to view the manual you just click the name underneath.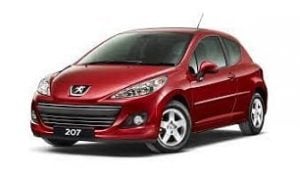 About The 207
The 207 was a supermini sold between 2006 and 2014 designed and developed by the French car manufacturer Peugeot. Based very closely on its predecessor, the 206, the 207 was unveiled at the Geneva Motor Show in 2006. Production started that same year.
The 207 was initially launched in France, Spain and Italy; European countries in which the Peugeot brand is popular. After a number of initial sales were made, Peugeot released the 207 in the rest of Europe and the UK. The 207 was based on the same platform used by Citroen's C3, but was slightly modified for the job.
There were three petrol engine variations, 1.4-liter petrol, 1.6-liter petrol producing 110 hp and a 1.6-liter engine. The 207 was sold as either a 3 or a 5-door hatchback, station wagon and coupe cabriolet. A panel van version was introduced in 2009 and coincided with the model's facelift. Here, the grille was shortened.
Peugeot used the 207 to compete in the 24-hour le man's endurance race. For this purpose, a special edition version was created. Aside from the predictable performance enhancements, this limited edition 207 had a single stripe that ran down the bonnet, roof and spoiler at the back and had a chrome-plated single exhaust.
The 207 had mixed reviews. As the 206 had been an incredibly popular vehicle, it seemed that Peugeot was reluctant to make any radical changes and so in a bid to not 'rock the boat' they were criticized for 'playing it too safe.'
Its main changes really were applied to the interior, which was not received well and the design and gearbox were two main features that came under scrutiny. Reviews complained that the 207 was of 'poor quality' and had 'very poor handling.'