Škoda Kamiq Owner's Manual
---
You can find 5 different owner's manuals for the Škoda Kamiq on this page that are in the PDF format.
Yearly Škoda Kamiq Owner's Manuals
The years available stretch from 2019 through to 2023 and to view the manual you just click the name underneath.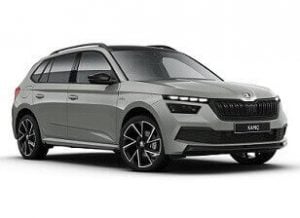 About The Škoda Kamiq
In 2019 the Czech automaker Skoda introduced the Kamiq, a subcompact crossover SUV that took over from the Yeti.
It sits at the smaller end of the SUV offering from Skoda and sits on the same chassis that Volkswagen Polo uses.
These owner's manuals will give you all of the information about how to operate your vehicle.
They have everything from safety tips, fuel efficiency, maintenance schedule, and more.
What sets this model apart from the rest of the range is its upright grille on the front as well as LED daytime running lights.
Unlike most of the other crossover SUVs on the market, this Kamiq does not come with an optional four-wheel-drive system.
This choice of making the car only front-wheel-drive comes down to it being targeted to inner-city customers who would never typically take it away from the road.
Making this choice has led to some benefits including a reduction in the cost of research and development and a simpler purchasing process.
A Chinese version of the Skoda Kamiq is available that is considerably longer yet is based on an older platform.
When purchasing this car you can choose from one of five engines starting with a 1000cc turbocharged gasoline and ending with a 1.6-liter turbodiesel.
A compressed natural gas drivetrain is also on offer with the Kamiq as the availability of that fuel type improves in recent years.
Customers can choose from a manual transmission or an electronically-controlled 7-speed dual clutch for fast gear changes.