Skoda Roomster Owner's Manual
---
You can find 10 different owner's manuals for the Skoda Roomster on this page that are in the PDF format.
Yearly Roomster Owner's Manuals
The years available stretch from 2006 through to 2015 and to view the manual you just click the name underneath.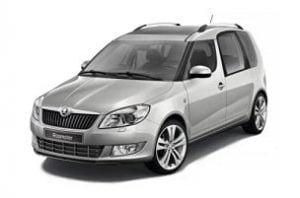 About The Roomster
The Roomster is fundamentally a small family car created by Skoda between the years 2006 and 2015. The first generation was a five-door vehicle that could seat 5 people at any one time. It had a front-engine, front-wheel drive configuration with a tall roof to promote extra internal space for larger passengers and to create a 'more roomy' feel (hence the name).
The Roomster didn't really fit into any one specific category, spanning numerous car types such as a hatchback, estate and multi-purpose vehicle.
The original concept car had the same name as its production counterpart and was debuted at the Frankfurt Motor Show in 2003. The only real difference between the concept and the production models were the doors, the saleable vehicles had a rear sliding door instead of the more traditional swing back doors, again to promote more space.
Under the hood, the Roomsters engines were taken directly from the Volkswagen group and had either a 1.4-liter or 1.6-liter inline 4 cylinder engine that produced 84+ horsepower.
2010 saw a facelift that was showcased at the Geneva Motor show. The updated model featured a new front end, fog lights and steering wheel. Skoda decided to turn the Roomster into a small commercial van, rather like Ford with their Ka model, by blocking out the rear windows and keeping the sliding doors. Skoda made use of all the space created by removing the back passenger seats and creating a large underfloor storage unit. Full-length roof rails were added too, and the vehicle was predominantly sold in Central and Eastern European markets.
Real Roomster enthusiasts took the van version and customized it to create a small campervan, with a lay flat double bed and removable table in some cases. The under-floor storage could be turned into an area that housed two pull-out draws which extended beyond the floor plan.