Skoda Yeti Owner's Manual
---
You can find 8 different owner's manuals for the Skoda Yeti on this page that are in the PDF format.
Yearly Yeti Owner's Manuals
The years available stretch from 2010 through to 2017 and to view the manual you just click the name underneath.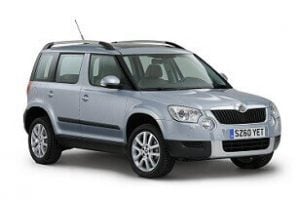 About The Yeti
The Skoda Yeti first went into production in 2009 and ran for 8 years until it was finally discontinued in 2017.
It was the first SUV to be produced by the Czech company that has been entirely owned by the motoring giant Volkswagen since the year 2000.
First unveiled in 2005, the Yeti concept grabbed the attention of the motoring world as a budget alternative compact SUV for the market.
These owner's manuals will teach you everything from how to start your car to what engine specifications are available with different trim levels of this sporty hatchback.
When the car was shown off in a ready for production state in 2009 the car was changed to a compact crossover SUV, losing its heavy offroad equipment.
It was to be built upon the Volkswagen Group A5 platform that it would share with the Skoda Octavia,  Volkswagen Golf and SEAT Leon of the time.
Inside, the Yeti was kitted out with useful features such as the ability for all seats (including the front passenger) to fold flat to allow for transporting of long objects.
This led to the car attracting a wide audience of people across all demographics that needed a practical low-cost car for both domestic and light commercial work.
All examples of the Yeti were front-engine with most sending the power to the front wheels, although a small portion was sold with a four-wheel-drive system.
The four-wheel-drive version of the car used equipment from the Mk5 Golf to allow for a clutch-controlled drivetrain with an Off-Road button on the dashboard to activate the assistance technologies.
Skoda made available a wide range of engines including gasoline and diesel options mated to either a manual or automatic transmission.
Safety ratings for the car were fantastic, Euro NCAP awarded it 5 out of 5 stars in 2009 with the occupant safety being towards the high-end.
Eventually, the Skoda Yet was discontinued in 2017 with the Karoq and Kamiq intended to take its share in the market.