Suzuki Ignis Owner's Manual
---
You can find 7 different owner's manuals for the Suzuki Ignis on this page that are in the PDF format.
Yearly Ignis Owner's Manuals
The years available stretch from 2017 through to 2023 and to view the manual you just click the name underneath.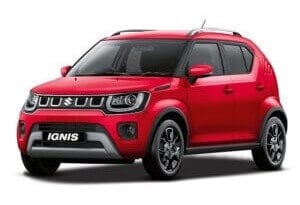 About The Ignis
The Suzuki Ignis was on sale between the years 2000 and 2008 but in 2016 made a comeback.
You cna find owner's manuals for all of these years featured on this page in PDF format for ease of viewing.
It has always been classed as a subcompact car or a B-Class if you are in Europe, one step up above a city car (think the Volkswagen Up! sort of size).
These subcompact cars are very small, lightweight and contain low displacement engines to keep running costs down.
The main difference between this and a city car would be that the city car is not designed for any journey that lasts longer than a simple drive to the shops.
When the Ignis was reintroduced in 2016 it was drastically updated but kept the same rough shape as the old model.
You could buy this new Ignis at varying levels of features with trims such as:
Adventure
SZ3
SZ5
SZ-T
LS
LT
E
X
This new model was offered with a mild-hybrid system that captures lost energy during braking to keep the running costs lower.
Underneath the latest Suzuki Ignis is the same HEARTEC platform used by many of the Suzuki range including the popular Swift.
Engine options were revised downwards due to improvements in technology meaning the company can squeeze more power from smaller displacements.
Customers are treated to a range of transmission options though in the newer model, they can choose from a manual, a CVT or even an automated manual (like a dual-clutch).