Suzuki Swift Owner's Manual
---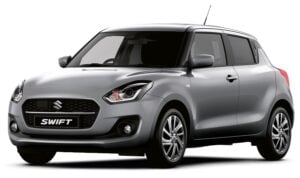 About The Swift
Since 2004 the Suzuki Swift has been in production as a replacement for the Cultus.
It is classed as a subcompact car but is also known as a B-Class in European auto markets or a supermini if shopping for a car in the UK.
Other superminis that the car has competed against in recent decades included the Ford Fiesta and Renault Clio.
The Swift is now in its third generation of design and is offered in a wide range of engine and transmission options.
You can opt for a sensible 998cc turbocharged engine through to a torque-heavy 1.25-liter turbodiesel.
Buyers can also add a mild or plug-in hybrid drivetrain to the car in order to bring down fuel costs.
Some models of the Suzuki Swift are also four-wheel-drive, with the rear axel being powered when the front loses traction.
The drivetrain and the level of features you get in your Swift depend on the level of trim you choose when purchasing, which can be one of the following:
Attitude
Sport
SZ3
SZ5
SZ-L
SZ-T
You can see the Swift in action within the Junior World Rally Championship with many competitors choosing this car as their base.
Sales are exploding for the car in the most recent decade thanks to its introduction to the rapidly growing Indian market.
Swift Sport Owner's Manual
We have also added various Swift Sport owner's manuals to this page to show you how to make use of the performance version's extra features.
The Suzuki Swift Sport has been running for most of the years that the standard version has and takes the sporty hatchback that much further.
It has sporty flare, better disk brakes all around and a higher-revving engine tuned by the Japanese automaker in-house.