Toyota bZ4X Owner's Manual
---
You can find 2 different owner's manuals for the Toyota bZ4X on this page that are in the PDF format.
Yearly bZ4X Owner's Manuals
The years available stretch from 2022 through to 2023 and to view the manual you just click the name underneath.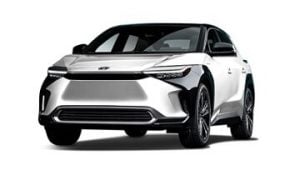 About The bZ4X
Known for years as the leader of the hybrid clan, Toyota is finally launching all-electric models, starting with the very snazzy-looking bZ4X SUV. The bZ4X is to be the lead product of Toyota's so-called 'Beyond Zero' program, which is all about first reducing the company's carbon footprint to zero, but then going even further to create a "net-positive impact," as they say on their website.
The bZ4X features very sleek and powerful lines, helping it to stand out as an entirely new generation of Toyota vehicles. The front end slopes down to create an aerodynamic and athletic shape, while the rear end exudes more power, space and utility. The design isn't just to set Toyota apart from its own models, but also from those of its growing number of competitors such as the Chevy Bolt EUV, the Ford Mustang Mach-e, VW ID.4 and other non-luxury electric SUVs.
The standard powertrain will include a FWD 201-hp setup with a single electric motor. The upgraded version will include AWD and a dual-motor setup adding up to 215-hp, which isn't a big jump, and Toyota hasn't promised super-impressive acceleration with a 0-62 time of 7.7 seconds. Mind you, the bZ4X is really about being efficient, reliable and appealing to more people as opposed to just being mind-blowingly fast.
The range of the FWD models is expected to be around 250 miles, with no details yet released on the range of the AWD model. The battery capacity is a pleasing but not class-leading 64 kWh. One interesting feature, however, is the integration of solar panels into the bZ4X, which Toyota claims will add up to 1000 miles of additional driving range each year.
The interior features a large 12.3-inch touchscreen, as well as an all-digital instrument cluster, Apple CarPlay and Android Auto, and safety and ADAS features powered by the latest Toyota Safety Sense 3.0 system.