Toyota FJ Cruiser Owner's Manual
---
You can find 9 different owner's manuals for the Toyota FJ Cruiser on this page that are in the PDF format.
Yearly FJ Cruiser Owner's Manuals
The years available stretch from 2007 through to 2014 and to view the manual you just click the name underneath.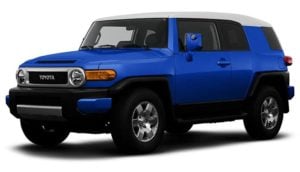 About The FJ Cruiser
The mid-size SUV retro-styled Toyota FJ Cruiser began production in 2006 in Japan after positive feedback was received about a concept car.
This car is built on the Toyota Land Cruiser platform and was released as a replacement for the Hilux Surf that was sold in some markets.
Obviously with the car being built on the Land Cruiser platform it performs well off-road and is helped by the technology onboard such as locking differentials and the A-TRAC system.
However, to enjoy all of the benefits of owning this vehicle for years to come, you need to know how to use and care for your Toyota FJ Cruiser.
That's why Toyota created this owner's manual: as your personal guide for tips on using and caring for your new Toyota FJ Cruiser.
When purchasing, the choice of engine is restricted to just one 4.0 litre V6 mated to a choice of 6-speed manual or 5-speed automatic transmission.
The economy of the vehicle is improved by its VVT-i fuel management system that can alter the engine's performance so it has power when needed but can be cheaper to run when driven carefully.
Safety ratings are pretty good though like most tall off-road capable vehicles it falls behind on rollover tests due to its high center of gravity.
Sales started out fantastic but after 5 or so years they tapered off, which could be put down to the increased competition in the SUV market and move away from heavy off-road cars.
Special edition models were released of the Toyota FJ Cruiser such as the TRD version which featured uprated suspension and exhaust with more aggressive styling inside and out.