Toyota Land Cruiser Owner's Manual
---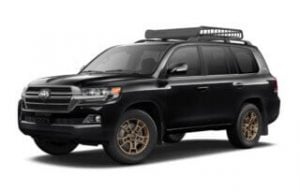 About The Land Cruiser
The Toyota Land Cruiser badge has been used on a range of off-road vehicles over the years by the Japanese automobile manufacturer.
Originally the name Land Cruiser first appeared in 1954 when a captured American Jeep by the Japanese in the second world war was reverse-engineered and a new name had to be forged for their version.
A year later Toyota released the second generation of the "Land Cruiser" which was designed to have more of a civilian appeal for commercial reasons.
Over the decades the model has turned from a military-specific platform into a domestic one that looks nothing like the original basis from the 1950s.
These 2 most recent generations: the J100 and J200 (which you can find owner's manuals for on this page) are entirely rebuilt under the hood compared to previous versions.
All Land Cruisers are filled with high-tech comfort features such as leather seats, advanced suspension and 4-zone climate control.
All of the models find it easy to tackle all conditions of the road thanks to Active Height Control, multi-terrain ABS and downhill-assist control.
The most recent generation model released in 2007 has the option of an 8-speed automatic gearbox in order to achieve a better fuel economy.
A twin-turbo diesel V8 is also available on the new version allowing for economic performance with the power available for when you need it.
A smaller version of the SUV is available outside of the USA called the Prado, inside the USA the company focus on its luxury offering the Lexus GX instead.
Among these modern examples of the truck you can find some with the following badges:
Active
Icon
Invincible
LC3
LC4
LC5
Amazon
Colorado
V8
Modern Land Cruisers compete with the likes of the Ford Explorer and the Nissan Pathfinder as full-size off-roaders capable of carrying many passengers.