Toyota Highlander Owner's Manual
---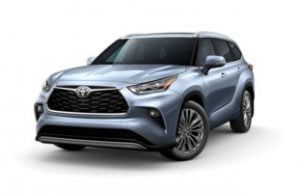 About The Highlander
The Toyota Highlander (or Kluger as it is known in Australia and Japan) is a mid-size crossover SUV that is built on the same platform as the Camry.
These owner's manuals include information on everything you need to know about owning and using your new Toyota Highlander.
This ranges from detailed diagrams of how to use each feature to tips on fuel efficiency.
The Highlander was the companies best selling SUV until recently when the slightly smaller RAV4 overtook as it evolved away from an agricultural vehicle to a more comfortable one.
Originally the car was released with the choice of a 2.4, 3 or 3.3-liter gasoline engine mated to a 4 or 5-speed manual transmission.
For the most recent version (2019 and newer) the engine choice is either a torquey 3.5-liter V6 or a more modest 2.5-liter gasoline-hybrid electric engine connected to an 8-speed automatic or CVT gearbox.
The newest version also contains an important improvement in technology allowing Apple and Android mobile devices to connect to its infotainment system.
These features in the newer models are controlled by the level of trim you select depending on budget, with options such as:
L
LE
Limited
Limited Platinum
Platinum
Plus
SE
Sport
XLE
XSE
Sales have been steadily increasing over the years since the launch of the Highlander with the hybrid option bringing in new environmentally conscious buyers.
The safety ratings from NHTSA for the Toyota Highlander have always been very good with the car only really falling slightly behind on the risk of rollover like most SUVs.
FAQ's
Q: What problems do Toyota Highlanders have?
A: For the years between 2008 and 2013, the model is said to have experienced power tailgate and air-conditioning issues. Since then the complaints have related to leaking oil and clunking noises coming from the engine during some model years.
---
Q: How often does a Toyota Highlander need an oil change?
A: According to the owner's manual, if you use synthetic oil in your engine you need to change the filter and oil every 10,000 miles. Using traditional non-synthetic oil would lead to the change needing to take place a lot more often, maybe even three times as often.
---
Q: How long do Toyota Highlanders last?
A: According to research Highlanders can last for an amazing 300,000 miles when properly serviced and maintained. In terms of years, it is said that 15 to 20 years is when the car can start to deteriorate and would be more economical to write-off as perishable parts wear out.
---
Q: Do Toyota Highlanders hold their value?
A: The Highlander has one of the best resale values for its segment of the automobile market. Toyota's are known for their reliability and value for money when bought new which add to this factor.
---
Q: What oil brand does Toyota recommend?
A: Toyota recommends Mobil1 for use in their cars.