Toyota Yaris Cross Owner's Manual
---
You can find 3 different owner's manuals for the Toyota Yaris Cross on this page that are in the PDF format.
Yearly Yaris Cross Owner's Manuals
The years available stretch from 2021 through to 2023 and to view the manual you just click the name underneath.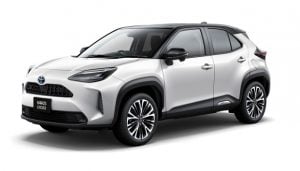 About The Yaris Cross
The release of the Toyota Yaris Cross was due to take place in early 2020 but due to the COVID-19 pandemic, this date was pushed back.
It was offered for sale later in the year locally in Japan and then in Australia, Europe didn't get the chance to order theirs until mid-2021.
These owner's manuals discuss all of the features and specifications of the vehicle, as well as many other topics that pertain to ownership of your new Yaris Cross.
This Yaris Cross is classed as a subcompact crossover SUV, using the European version of the standard Yaris as a platform.
On top of this is a taller SUV-like body that boasts loads of internal room for occupants and cargo as well as a high seating position.
The platform is set up almost exactly the same as the standard Yaris but with an additional 30mm of ground clearance.
It isn't the only subcompact crossover SUV from Toyota on sale, the C-HR came on sale in 2016 and is built on the slightly larger Corolla platform (about 4-inches longer).
Due to its small size, the car is likely to never go on sale in the USA, although you can find the C-HR successfully selling over that side of the world.
There is one choice of engine in the Yaris Cross, a 1.5-liter gasoline mated to a CVT powering the front or all four wheels (depending on trim level).
Buyers are able to choose whether they want to add a mild-hybrid system to their car that can capture lost energy during braking to recycle when accelerating again.