You can find 2 different owner's manuals for the Volvo C40 on this page that are in the PDF format.
Yearly C40 Owner's Manuals
The years available stretch from 2022 through to 2023 and to view the manual you just click the name underneath.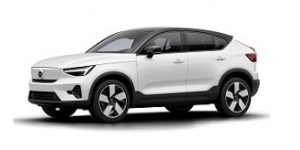 About The C40
Officially known as the Volvo C40 Recharge, this model is a derivative of the XC40 Recharge, and was unveiled in March 2021 for a production start in September in time for the 2022 model year. Many awaited the new C40 with great anticipation, particularly in line with the promise of its overall sustainability and eco-friendliness.
An immediate feature that reviewers have seized upon is the 100-percent 'vegan-friendly' interior of the C40, with not one part of the upholstery, dash, steering wheel or other coverings having made use of any animal skin or other parts.
On top of that, many have also looked at its pleasing exterior design, reminiscent of a sharp, modern and aggressive-looking SUV design with steep rear windows and spoilers, contrasting black roof and mirrors, 19" alloys, and angular front-end build. However, far from being just another gas-guzzler, the C40 is actually built exclusively as an electric model (hence the name "Recharge"). The sportier elements are what help distinguish the C40 from its predecessor the XC40.
The powertrain for the C40 is a 78-kWh lithium-ion battery pack with 75 usable kWh, connected to dual motors and with an EPA-estimated range of 226 miles per single charge. That's an improvement on the XC40, but only by 3 miles in total. It'll go from a stand-still to 60mph in about 4.5 seconds.
The interior of the C40 is reminiscent of its predecessor the Volvo XC40 Recharge, with lots of soft-touch materials and a pleasing array of cutting-edge technology. One disappointing feature, however, is a lack of provision of Apple CarPlay, but Volvo has said they will add it in later models. Both the central infotainment system and digital instrument panels are sharp and clear, but some have complained that the instrument panel isn't as customizable as some competing models such as the Audi Q4.