You can find 8 different owner's manuals for the Volvo C70 on this page that are in the PDF format.
Yearly C70 Owner's Manuals
The years available stretch from 2006 through to 2013 and to view the manual you just click the name underneath.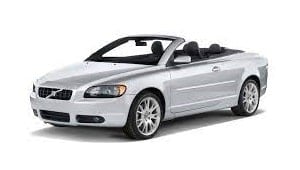 About The C70
Seating four people, the Volvo C70 was a 2-door sport compact built between 1996 and 2013.
Initially a soft top coupe, and then a hard top, the C70 was showcased at the Paris Motor Show in 1996 and then released for first the European market, then the American one.
Breaking the Volvo styling tradition, Peter Harbury designed the C70 with the intention to modernize Volvo's lines of vehicles. No longer the boxy cumbersome vehicle that people had come to expect from Volvo, the C70 was the car manufacturer's first luxury coupe brought into production in a while. The mission statement was to create a useable family car that was also a sleek coupe which was a fairly unusual concept for the time. Taking 30 months to develop, these cars were built upon a platform derived from the 850 and were made in Uddevalla in Sweden. There were heated rear windows (a notable feature for a soft top convertible), side airbags for increased safety and a safety cage. Reviewers did point out a few issues with the first generation of C70s; poor rear visibility and very poor structural rigidity.
After a respectable 72,000+ units sold in its first generation, Volvo redesigned the vehicle for 2006 and debuted this new series of vehicles at the Frankfurt Motor Show. Now built upon the Volvo S40 platform, the all-new C70 had a 3-section hard top that could only fold away when the vehicle was stationary but could do so within 30 seconds. The boot had a capacity of 13 cubic feet when the top was up, and when down, 7 cubic feet. To increase safety, Volvo installed a door-mounted side impact protection which had the capability of instantly inflating upwards upon impact.
2010 saw an update with changes made to both the front and rear, but the engine and transmission remained the same.
On the 4th of October 2011, Volvo announced that they would be discontinuing the C70 as a direct result of the termination of the joint venture between Volvo and Pininfarina Sverige, the company that had played a fundamental role in creating and manufacturing of the C70.
Volvo did not launch a direct replacement for this model but instead focused on the Polestar 1 electric car for its target audience to move onto.