You can find 9 different owner's manuals for the Volvo S40 on this page that are in the PDF format.
Yearly S40 Owner's Manuals
The years available stretch from 2004 through to 2012 and to view the manual you just click the name underneath.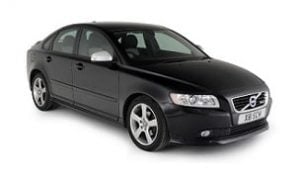 About The S40
The S40 is both a compact and subcompact executive car built and designed by the Swedish automaker Volvo from 1995.
The predecessor to the V40, the first S40s should have been called S4 and F4, but once Volvo discovered that Audi had already registered the nameplate 'S4' and so they changed to S40 and V40 (the former a saloon, the latter an estate).
Built at the Nedcar factory in Born, Holland, the S40 was designed by Peter Horbury and was the first vehicle under his full direction.
Showcased at the Frankfurt Auto Show, the S40 had a diesel direct fuel injection along with great safety features, large tires and a range of engine sizes such as the 1.9 turbo diesel, or the 1.6-liter, 1.8-liter and 2-liter gasoline.
In the UK, the trim levels were S, XS, SE and CD with the limited edition 'Xi' colored yellow with black bezel headlamps.
The S40 was the first car to earn the coveted 4 stars for safety from Euro NCAP.
In motorsports, the Volvo S40 was used in the British touring car championship with the Tom Walkinshaw Racing team and subsequently won the title. Taking part in a number of other touring competitions in Australia, Sweden and Norway, the S40 changed platforms with the change in generations and so moved to the Volvo P1 Platform. At the same time, the V40 was replaced by the estate V50.
Named 'World car of the year' and winning 'Canada's car of the year' the S40 shared some mechanical aspects with the Mazda 3 and the Ford Focus.
Volvo released a commercial campaign entitled the 'Mystery of Dalaro.' This was shot as a documentary and was an 8-minute film.
2007 saw a facelift with improvements made to the audio equipment, storage and safety. One safety feature was the automatic emergency brakes. This system was able to understand the difference between a normal brake and an emergency, and in the case of the latter applying rapidly flashing brake lights to mimic hazards.