2021 Skoda Enyaq Owner's Manual
---
You can view the 2021 Skoda Enyaq Owner's Manual further down the page underneath the image of the cover.
Clicking on the "view full screen" button will take you to a full screen version of the manual.
Manual Cover

2021 Enyaq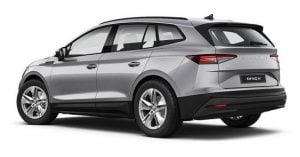 Underneath the 2021 Skoda Enyaq is the same platform at work under the WV ID.4.
Both models are all-electric and offered in a variety of power configurations depending on requirements.
You can opt for just one electric motor in the rear of your 2021 Enyaq or pay more and get the front wheels powered too.
Alongside this mix of rear-wheel or four-wheel drive, you can also opt for a larger battery pack to increase range.
The largest battery pack gives the Enyaq the ability to travel over 300 miles on a single charge.
Fitting the least expensive battery back only provides the car with just over 200 miles range on the other hand.
All of the 2021 models are styled with an SUV body but you can choose whether to upgrade to the sportier Sportline trim.
That Sportline trim features a lower sloping roof at the rear at the sacrifice of internal space for style.
Protecting the occupants is a vast range of technology in the 2021 Skoda Enyaq including lane assistance and fatigue detection.
Helping the driver stick to local speed regulations is a camera at the front of the car that can read speed limits from signs and adjust the engine accordingly.