2021 Audi A3 Owner's Manual
---
You can view the 2021 Audi A3 Owner's Manual further down the page underneath the image of the cover.
Clicking on the "view full screen" button will take you to a full screen version of the manual.
2021 A3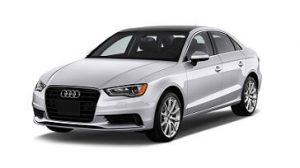 The Audi A3 first appeared during the mid-1990s to act as the company's subcompact executive car.
It was built using many of the same mechanics as the VW Golf but acted as a more premium option with more features as standard.
You could buy it as a 3 or 5-door hatchback with a petrol or diesel engine and power put down to the front or all four wheels.
Fast forward to 2021 and the A3 is now a big seller for the German automaker Audi thanks to its mass appeal across Europe and beyond.
It now boasts styling inspired by Audi's sibling company Lamborghini in both the inside and outside of the car.
Much like the Lamborghini models that have inspired it the new A3 boasts a high-tech steering wheel with many controls fitted directly into it.
2021 models of the A3 can be fitted with a wide range of engines including mild and plug-in hybrid drivetrains.
The plug-in hybrid (or PHEV as it is also known) is branded by Audi as the e-tron version of the car.
Charging this hybrid electric example of the A3 is covered in the official manual and reading it first can help reduce the risk of damaging the batteries.
Another drivetrain that Audi has produced for the 2021 model year is the g-tron, with a natural gas-powered engine.
At the top of that engine list of options is the 2.5-litre 5-cylinder turbocharged unit fitted in the RS3.
The 2021 Audi RS3 produces 400bhp and puts it to all four wheels allowing it to go from 0 to 60mph in less than 4 seconds.
You can also choose to have your A3 as a sedan as well as a hatchback in modern times - all versions of the car are covered in the owner's manuals on this site.